What does your Zodiac Sign say about you and love? Do you fall hard and quickly? Are you someone that takes a long time to say "I love you"? Well, for a funny and possibly highly accurate (at for me it is) description, go ahead to the link below to find out.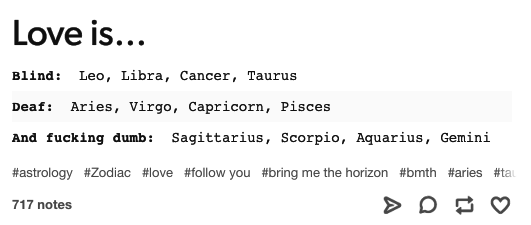 https://www.buzzfeed.com/danielacadena/times-tumblr-nailed-your-star-sign-when-youre-in-love?utm_term=.oeM721aqL#.qjKDZ7vwa
Note: I made a board, but forgot to take a picture. But hey! You can find all of it at the link above.
Tayte
#identitydevelopment